It Takes a Team: Treating and Preventing Brain Injuries
Kamerin Hargrove
March 14, 2023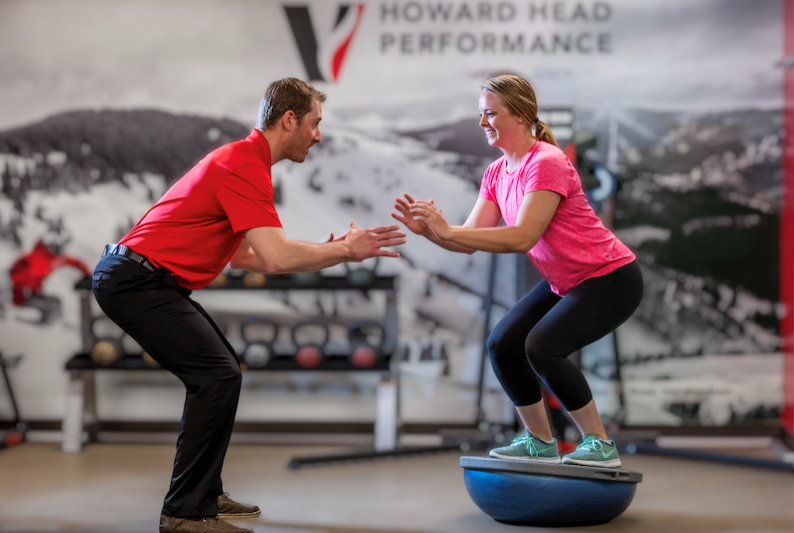 March is Brain Injury Awareness month, and while brain injuries get highlighted this month in particular, Howard Head Sports Medicine's
Brain & Balance Care
team works throughout the year to help people who suffer from brain injuries return to their active lifestyles in the safest and most effective way possible.
The overall Howard Head Sports Medicine (HHSM) Brain & Balance Care team encompasses teams of physical therapists, occupational therapists and speech pathologists who have additional certifications in the treatment of head injuries. This dynamic team approach allows for cross-collaboration among experts and the development of services that meet the needs of individual patients.
Lead Brain & Balance Care Therapist Lauren Rust says that her team's services are geared at covering the whole spectrum of life. "We see [brain injuries] on the ski slopes here in Vail, and we also see them in our general community members, whether that's a motor vehicle accident, or a sports injury or slip and fall on the ice," she said. "We see kids that are 12 years old who hit their head on the half-pipe, but then we're also seeing elderly patients who fell in their home."
According to Sports Residency Coordinator and Brain & Balance Care Therapist Devyn Kammert, symptoms of a brain injury can persist long after a person goes back to sport or life. "Something as simple as chronic headaches, or motion sickness, or difficulties on a computer after a head injury, all of those can still be treated after the fact," she said. "It doesn't have to be an acute issue; we can still really help people that have these residual effects."
Some brain injuries can also affect a person's speech and ability to communicate effectively, and HHSM's
Speech Language Pathology
team is equipped to help patients of all ages to do much more than get their speech back. Treatments for a traumatic brain injury, or TBI, can help patients make their speech clearer, improve thought expression, better understand what they read and boost problem solving, organization and planning skills.
"[My] goal is to help people return to satisfactory daily lives and make accommodations to what will work in a setting of changes, [and] teach new strategies to help the person adapt to new tasks that fit them," said Suzy Morgan, an occupational therapist at Howard Head Sports Medicine in Vail.
While learning to adapt to tasks following a brain injury is key, Rust says that the tough thing about traumatic brain injury is that it can affect so many aspects of a person's life. "People can be emotionally impacted, where all of a sudden this happy and vibrant person changes, and they're anxious and they're angry, and they're having mood swings that aren't normal for them," she said. "At Howard Head, we really try to tease out what their main concerns are and then help them find additional support to further their function."
Having a brain injury is often way beyond what one person can handle alone, but with HHSM's Brain & Balance Care team, physical therapists, occupational therapists, and speech therapists are all working together to support patients and their families. "We're here from day one of the injury, whether that's in the clinic, on the hill with the athletes, or in the emergency department," Rust said. "There's never a bad time to come and see us."